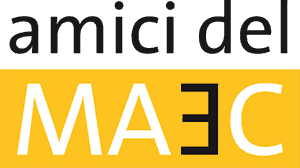 Le strutture sotto elencate fanno parte della rete AMICI DEL MAEC.
A disposizione dei loro clienti sconti e omaggi per visitare la mostra "Seduzione Etrusca".
Del Brenna - Jewellery

Address

Piazza della Repubblica 15
52044 Cortona (Ar) Italy

Telephone

tel. (+39) 0575 62827
tel. (+39) 0575 630643

Website

E–mail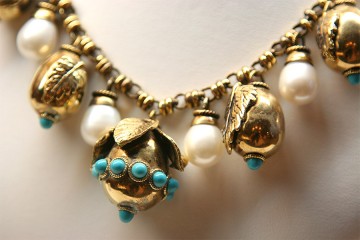 Come to Cortona, look for us "Under the Tuscan Sun", in the historic center of the village for a complimentary visit of our artisan laboratory; take this opportunity to meet professional artists and craftspeople, interact with them and see the techniques and processes involved in making jewellery, a place that speaks of past centuries, where time was marked by seasons.
Imagine while the millstones of this mill were turning, Leonardo da Vinci was touching up the various chiaroscuros of the Mona Lisa.
In this continuous renewal and repetition of work these rooms have seen the harvest and grindings of olives from 1400 AD until a few decades ago.
Today transformations still take place but no more oil and wine come from the pipes and grinders but jewelry, pieces of extraordinary beauty , unique and elegant .
"A passion, three generations!"
The story of DelBrenna is about an Italian family with a deep passion for the art of jewelry making. At the beginning of '900 the Florentine Giovanni DelBrenna, started an activity that would become the art of excellence that the DelBrennas have handed down to date: to create jewelry that can give joy to those who own them or to who wear them even for a moment.
Il mondo di Amelie

Address

Via Casali 2/4 angolo P.zza Signorelli
52044 Cortona (Ar) Italy

Telephone

Tel. (+39) 0575 601189
Fax (+39) 0575 601189

Website

E–mail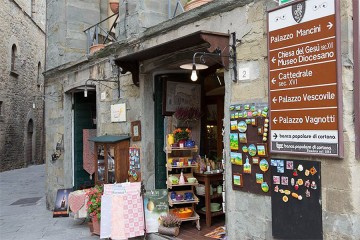 "Il mondo di Amelie" ,in the evocative Piazza Signorelli, at the town centre, is packed with exclusive skillfully crafted tuscan artisan wares.You can admire the reproduction of unique tuscan jewellry made with Silver 925 (92.5% Ag) electroplated in gold, guaranteed non-allergenic and nickel free, with s stones such as cornelian, lapis, agate,coral,turquoise, precious lost plaster molded glass and bronze. Created in the fascinating Medieval village of Caprese Michelangelo, these jewels are to be found at the Etruscan Art Museum in Cortona, MAEC. To embellish your homes there are a variety of stylish fabrics in linen and cotton with subtle natural colours and traditionsl tuscan design.The Linens are made in a small place between Cortona and Siena, Torrita di Siena, about 40Km away. There are also ancient looking colourful ceramics to decorate tables. Altough the fabrics and ceramics are made using the same techniques as in the past , but are dishwasher and microwave safe. We also have an organic Tuscan Herbal products to bring beauty and fragrance to your life. You can find bas-reliefs depicting Etruscan scenes, bronze of all kinds,created in Volterra, 182Km from Cortona, napkin holders, spice grunders made in Subbiano, 40 km from Cortona,and reproduction of etruscan vases.